You know those days when everything hurts a little? That feeling when walking up the stairs becomes a major mission? Or maybe your digestion isn't working 100% effectively? Do you feel sluggish and bloated? Moderate digestion problems are common complaints and can rear their ugly heads at any stage of life, but particularly as we get older.
'Trust your gut,' they say. If your response is 'have you met my gut?' you may need a little extra natural support from over-the-counter supplements.
But isn't it a delicious and colourful cooking spice? Yes, it is. You sprinkle a heap of turmeric onto cauliflower before roasting, you drink two or three cups of turmeric tea a day, yet it's simply not possible to ingest enough of the tangy spice to reap the numerous health benefits. Over-the-counter supplements are the answer, and are particularly effective when you add another powerful spice to the mix - black pepper. If you want to avoid strong medication and prefer natural remedies, Vegetology Turmeric and Black Pepper can fill the gap that a healthy diet alone can leave.
What is it and what's it good for?
If you're looking for natural digestion vitamins, why not try the powerful combination of turmeric and black pepper? For overall wellbeing and healthy digestion, a daily dose of our capsules contains a high potency turmeric extract, providing 95% of the active ingredient, curcuminoids, the equivalent of 5mg of turmeric root. Combined with black pepper which is rich in piperine, our Turmeric and Black Pepper supplement is formulated to enable optimum absorption and bioactivity of the nutrients into the body.
The science behind the spice
Native to South East Asia, the turmeric plant has been used for thousands of years as a cooking spice and a natural health aid. It's is a golden yellow spice, sometimes referred to as Indian saffron and is a key ingredient in many curry recipes. It has long been considered a highly effective tool for managing a variety of health conditions. 2-6% of turmeric contains circuminoids, which gives turmeric its yellow colour and has been isolated by scientists as its most important active ingredient. Black pepper is reputed to help the body absorb more curcumin, and so bringing the two super-spices together is a winning combination.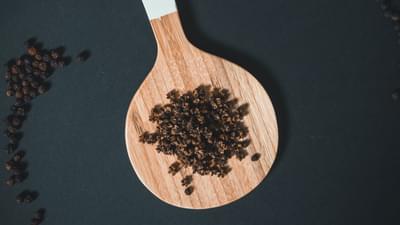 What's in Vegetology Turmeric and Black Pepper?
Each capsule contains 300mg curcumin, C3 complex and 5mg of black pepper. Take one capsule a day with water and food to support a calm and happy digestive experience.
What makes Vegetology special?
Our turmeric and black pepper supplement is designed around a high potency turmeric formula which supports normal healthy digestion combining the best natural ingredients to offer exceptional quality and strength which leads the market.

Our supplements are 100% vegetarian and vegan approved, free from gluten, wheat and dairy, non- GMO and are made in the UK.