As parents, we understand the need to give our children great nutrition to set them up for adult life. Parents are more informed than ever before about potential nutritional deficiencies and how to avoid them. This can include using supplements. So we wanted to take this opportunity to give a family guide to our supplements at Vegetology. Which supplements can help your whole family? And why is plant-based a good way to go for vegan and non-vegan families?

Vit D3 — the world's first vegan Vitamin D3
Vitamin D is essential for people of all ages. Your body can make its own Vitamin D, in a chemical reaction when the skin is exposed to direct sunlight. The problem for many of us is that we don't get enough sunlight and therefore not enough Vitamin D. When it comes to concerns over deficiencies, it is always worth talking to your doctor or GP to evaluate your own situation, but there is a statistic in the UK that says that if you live north of Milton Keynes, you never get enough Vitamin D from sunshine alone. Maybe last year was an exception because we had an incredible summer last year! But even in hot, sunny countries, like Australia, people cover up or wear a lot of sunscreen. So there is a growing concern over low levels of Vitamin D. In fact, Public Health England recommends that most of us, from birth, consider a supplement of varying strength.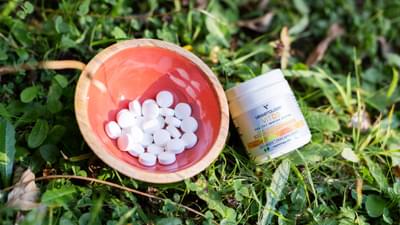 Our vegan Vitamin D3 supplement is made from a specific strand of lichen with high levels of D3, a more effective form of Vitamin D than D2, often used in vegan supplements. We offer Vit D3 in various forms, including a liquid - an oral spray. One of the reasons we did that is because it's perfect for children - even for babies. One spray dose is 200 iu or 5 mcg, so 5 doses per day would be 1000 iu, or 25 mcg. It's simple to vary the dose depending on who in the family is taking Vit D3. It can be sprayed directly onto the mouth or onto food and into baby formula making it a great choice for every age. We also offer chewable tablets for older members of the family.

Omega‑3 DHA and EPA supplement
Omega-3 might not be talked about as much as other vitamins and minerals, but it is essential for heart health and development. We developed our Omega-3, EPA and DHA, source as a plant-based alternative to fish oil for vegans, vegetarians and those concerned by unethical fishing practices and toxicity in the sea. Omega-3 is an algal source but is grown in a controlled environment to ensure purity and to avoid disrupting the delicate ecosystem of the oceans.
Omega-3 comes in capsule and liquid form. The liquid is available in mild orange flavour and flavourless and can be taken directly from a spoon or can be stirred into food or formula.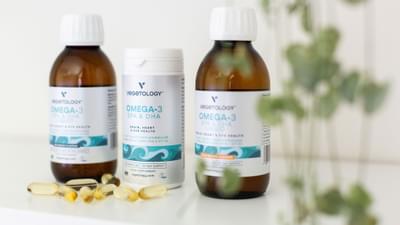 Vitamin B12 — Our Sublingual Formula
Vitamin B12 is vital for the proper functioning of your bodily reactions and a healthy metabolism. If you are a vegan family, you cannot get enough Vitamin B12 from plants, as it isn't present in a plant-based diet. Our Vit B12 Sublingual formula is 100 mcg per day and is designed to dissolve under the tongue. Vit B12 is water soluble so the body takes what it needs and the rest pass through. For a lot of children, foods like cereals and infant formula are fortified with Vitamin B12 and if your child takes a multivitamin that may contain B12 as well. I would recommend getting some advice from the doctor about if you do think about using a specific Vitamin B12 supplement.

MultiVit — our vegan multivitamin
There are specifically designed multivitamins for children and currently we don't have one here at Vegetology (we're working on it!). Whilst there is nothing in the formula that isn't suitable for children, there are better options to get the nutritional help your child needs from fortified foods and children's multivitamins.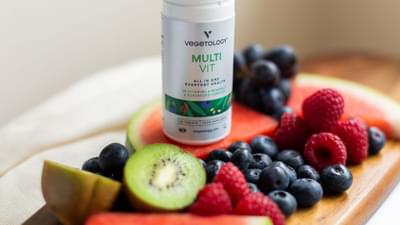 Our vegan joint and bone supplement is suitable for any age from a formula perspective but it is designed for adults, as we would hope that children's bones and joints would develop normally and that their diet is sufficient to not need supplementation at a young age. If there are problems with your child's bones and joints it's imperative to speak to your doctor or GP as there could be an underlying medical reason. If your doctor or GP then suggests they need a calcium and magnesium supplement, something with Vitamin C, K2 and D, Bone Care, from a formula perspective would be absolutely fine, although it is a larger tablet so may only be suitable for older children.
The right nutrition for your vegan family

There are a lot of resources online now to help families get the right balance in meals and to know when to supplement - we've got some on the Vegetology website. There are great government guidelines and resources such as the EatWell Plate. The Vegetarian Society and Vegan Society also have lots of great recipes and ideas on their websites. If you've got concerns about acute deficiencies you should go and talk to the doctor or GP. They can do blood tests on you or your children to evaluate those deficiencies.

Vegetology for the whole family
There are some supplements that we offer that can be used by the whole family and are really effective, such as Omega-3 and Vit D3. We also have some supplements that are designed for specific members of the family, like Pregnancy Care, our vegan pregnancy supplement. You can also take advantage of our bundle offers to get the right nutritional support for the whole family.
SHOP NOW